The Power of Story-Telling
Impact of Combining Radio Dramas & Stories of Jesus
The basic drama program approach is that of the Bible story. Everyone loves stories. Jesus did not follow the sermonic model most preachers, and many teachers, use today. Rather, He told stories. And the people listened. They loved them. And they remembered the stories He told. Oral cultures in many parts of the world rely almost exclusively on stories in communicating and teaching. Missionaries have rediscovered the effectiveness of using Bible stories. Conveying the truths of Scripture in story form makes a lasting impression upon the reader/hearer. Bible stories are easy to remember. And they are a great aid when the person wants to share the truths he/she has learned with someone else.
Resources
We produce a combination of printed and audio resources centered upon the Word of God. The resources are in the areas of pre-evangelism, evangelism, and discipleship. All of the resources use primarily the "storying" method of conveying the truths of Scripture.

We presently produce five different types of resources. These resources allow broadcasters flexibility in their planning and programming.

Uplifting Listener Testimonials
"I was very moved by the dramas based on the life of Joseph and Job. These Bible dramas have just met the needs of my life... As I was just wondering about the purpose of my life and existence, I am now convinced that this God of power and mercy has created me for a purpose. I also responded to God's Word through the prayer at the end of the drama as my response to God. I must also admit that your dramas can attract any people groups irrespective of caste and creed. Thank you very much." More Testimonies
More from these countries: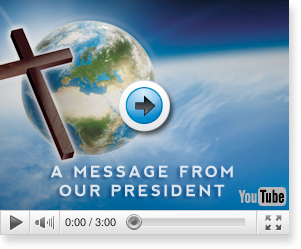 A Message from our President
In 2004, Christ the World Ministires was formed. Our Vision and Mission from day one has been to honor the final command of our Lord and Savior, Jesus Christ, to Go and make disciples of all nations (Mt. 28:19). This ministry focuses on bringing people to a saving knowledge of and faith in Jesus Christ as Savior and Lord. The great need of our day is to present the saving message of Jesus to a lost and dying world. Read Full Story